Starting July 6, 2021, Boxmode offers two paid pricing plans instead of the initial Basic Annual plan: Lite ($4.50/$6 per month) and Growth ($7.50/$10 per month). You can compare new subscriptions on our pricing page.
These paid plans unlock recently released functionality that includes additional customization options, analytics, advanced link settings, and other services. Therefore, you can choose a plan with a toolset that meets your current needs.
Unlike free users, the Lite plan subscribers can remove Boxmode branding, connect a custom domain, and contact our live customer support via chat 24/7.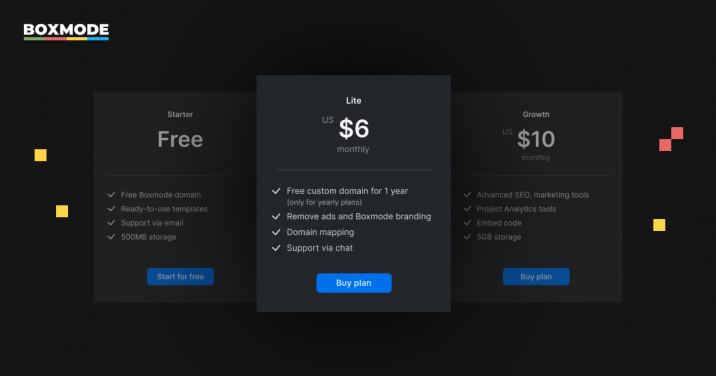 The Growth subscribers can integrate third-party analytics tools, add custom code via HTML iFrame, add noopener, noreferrer, and nofollow attributes for links, and schedule a live tutorial session about using the website builder.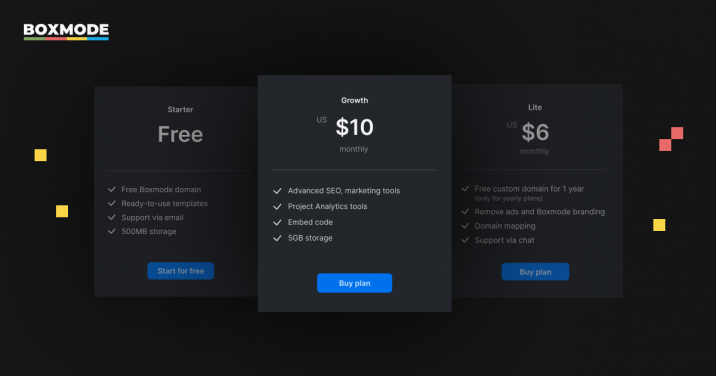 What else has changed?
The plans provide different amounts of storage (500 MB in Starter, 1 GB in Lite, and 5 GB in Growth).
Only paid annual plan customers can redeem a voucher to use a custom domain name for one year for free.
Changing the membership plan to the new one
You need to do no more than five steps to change your plan:
Visit the pricing page and click Buy Plan on a given plan's block.
Log in to your Boxmode account if you haven't done so yet.
Choose a project for this plan and payment frequency. After that, Boxmode will redirect you to the checkout page.
Select your saved payment method or add a new one on the checkout page.
Press Submit payment.
Your subscription will change right away after a successful purchase.
You can find step-by-step instructions and read about how the upgrade process works before a current plan's renewal date in our Upgrading to a new pricing plan article.
FAQ
What will happen to my Basic Annual subscription after the expiration date?
Your Basic Annual plan will remain valid at the same price ($33 per year) as long as you renew it once a year or turn on auto-renewal. However, if the scheduled renewal doesn't take place, the subscription will downgrade to Starter without the option to continue or purchase an old subscription plan again. 
You can switch to one of the new pricing plans any time to benefit from their features and services.
What will happen to my existing free projects? Will they be deleted?
No, Boxmode won't delete them. If you created projects before the new plans' release, the terms of your Starter plan will remain the same, so you can keep working with your existing free projects as before.
If you create a project after the release of the new plans, you will have access to features available under the updated Starter plan.
What will happen to my connected custom domain?
Let's suppose you are a Starter or Basic annual user who has connected a custom domain with a free domain mapping feature to your project before the new plans were released (July 6, 2021.) In that case, you will continue using a website with its domain in the same way as before. Moreover, you can still connect a third-party domain for free. However, new terms will apply to newly created projects.
What plan will I get if I create a new project?
Any new project you create will get a Starter plan.
Note:
One subscription applies to a single project/website, not the entire account. Let's say you have three projects. So, if you want to use the extended functionality to manage all of them, you need to upgrade a pricing plan for every project.
We hope this article answered all your questions. If not, please reach out to our customer support team. Changing a subscription is simple: several clicks in the dashboard — and you're all set. Just try it!
Choose project to upgrade