Boxmode provides handy tools for building a secure website with basic functionality for free. Domain mapping, custom domain usage, off-the-shelf templates, widgets, SEO settings, storage space, timely customer support are some of the features and services available for the Lite plan users. Those who need a more complex website in terms of design and functionality can upgrade to the Growth pricing plan.
Growth provides:
5 GB of storage space;
Integration with popular analytics solutions;
HTML iFrame widget for adding HTML, CSS, or JS code;
A live tutorial session with a company specialist on using the website builder (available within the month after the plan purchase.)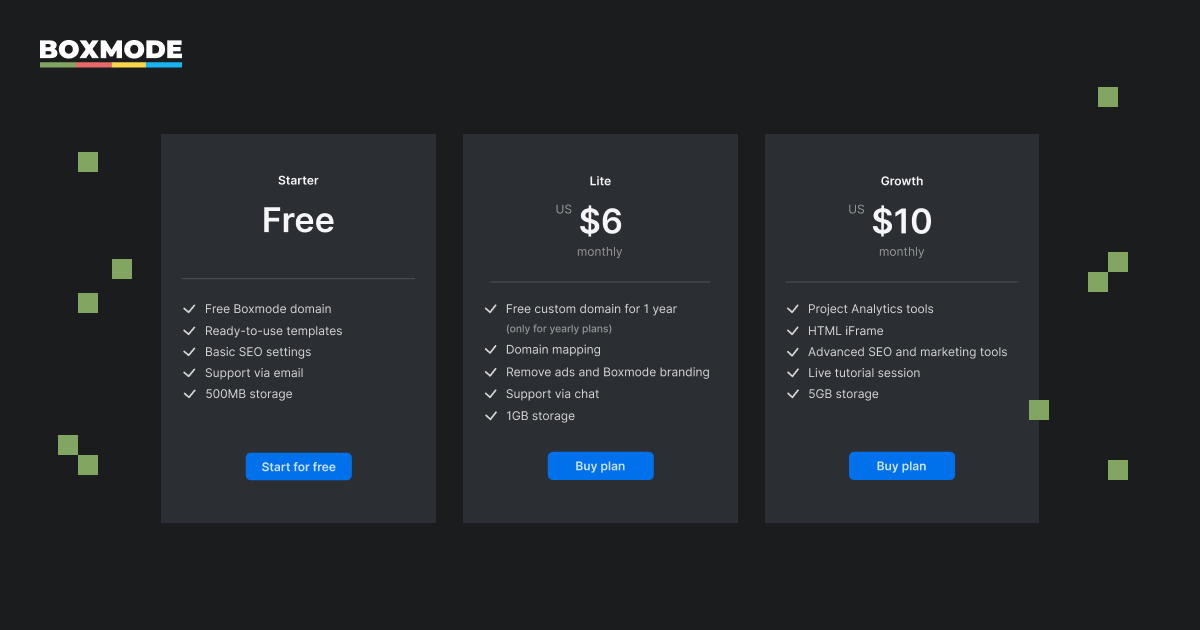 Compare Boxmode's plans on our pricing page.
Upgrade scenarios
These are the ways of how you can change Boxmode plans:
From a free subscription (Starter) to any paid pricing plan;
From Lite monthly to Lite annual and Growth monthly/annual;
From Growth monthly and Lite annual to Growth annual.
Note:
One subscription applies to a single project, not to the entire account.
Upgrading an old pricing plan to a new one
Go to the pricing page with plans' brief descriptions.
Press Buy Plan on the Growth plan block.
Log in to your Boxmode account if you haven't done so yet.
Choose a project you want to upgrade on a dedicated page and how frequently you wish to pay for it (every month or once a year). After that, you'll be redirected to a checkout page.
Choose or add a payment method on the checkout page. You'll see your saved payment method in a specific section, and a card data entry field will appear once you click to add a new option.
Press Submit payment on a checkout page.
Changes to your subscription will take place immediately after a successful purchase.
Upgrading before the current plan's renewal date
If you change your current paid plan before the renewal date, we'll deduct the cost for unused days under the existing subscription from the more advanced plan's fee.
Here is how it works. Let's suppose you want to upgrade a monthly Lite plan ($6 per month) to a monthly Growth plan ($10 per month) on the 15th day of the current billing cycle that lasts 30 days. Since you used Lite for half of the billing cycle, $3 still remain on your account. We'll deduct this sum from the cost of using the monthly Growth plan for 15 days:
$5 – $3 = $2
So, you'll pay just $2 more for using the most advanced plan for the next 15 days until the due date. The billing cycle stays the same, and Boxmode will charge you the full amount for Growth within the first days of the new billing period using your default payment method.
Important:
Boxmode specifies the last added payment method as a default one unless you change it in the dashboard's Billing & Payment section.
Are you ready to expand your site's functionality? First, visit the pricing page, then сhoose a project you want to upgrade, complete checkout — and you're all set!
Choose project to upgrade