The Growth plan works well for customers who need sufficient storage space to upload content and ensure the website handles a high workload. Developers and web designers who need to create a full-fledged site and quickly customize it to their liking or customers' preferences may also find it a good deal.
What is the Growth plan?
The Boxmode Growth plan unlocks all of the website builder features. Its subscribers can integrate analytics solutions to make data-driven decisions, use extra SEO tools, customize site design and expand its functionality to meet their customers' specific needs, among other things.
What is included in Growth?
The Growth plan includes the following features and services that are not available in the Starter or Lite plans. In particular:
5 GB of storage space on Boxmode on-premises servers;
Advanced link settings (Noopener, noreferrer, and nofollow attributes for links);
The opportunity to integrate project analytics tools (Google Analytics, GTM, Hotjar, and Facebook Pixel);
HTML iFrame widget

for customizing web pages' design and layout and adding a specific functionality via custom HTML, CSS, or JS code.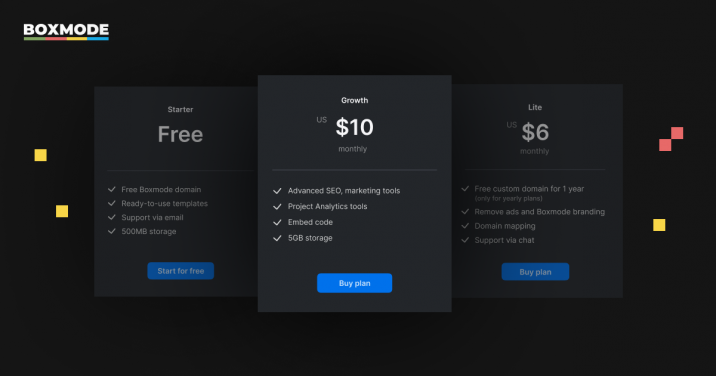 Find more information on our pricing page.
Essential information about Boxmode's Growth Plan that you should know
The Growth annual plan costs $7.50 per month ($90 a year), while the Growth monthly subscription is $10 per month ($120 a year).
One Growth subscription applies to a single project, not to the entire account.
Paid customers can redeem a voucher to use a custom domain name for one year at no cost.
Users can choose a free custom domain name with one of these extensions: .com, .cc, .xyz, .click, .company, .business, .name, .pictures, .top, and .work.
A free domain is available for annual plan users only, and they can claim it once. So, please ensure that your domain choice is final. You can't change it later.
We hope this guide helped you understand the Growth pricing plan's features and terms. If you have questions on how to use Boxmode Growth, our customer support team will help you.
Choose project to upgrade