With our free plan, customers have a wide range of tools at their disposal. However, users whose website requirements exceed what a free plan offers can unlock extra features via the Lite pricing plan.
What is the Lite plan?
The Lite plan works for users who need to adapt their websites to an increasing workload (the sites get more visits, or owners must add more content) typical for small companies that grow dynamically.
What is included in Lite?
The Lite pricing plan provides these capabilities and features:
1 GB of storage space on our on-premises servers;
The opportunity to remove Boxmode branding and ads;
The domain mapping feature (the option to connect your custom domain);
A Boxmode voucher for a domain name for free (only for annual plan users);
24/7 live customer support via chat (in addition to support via email).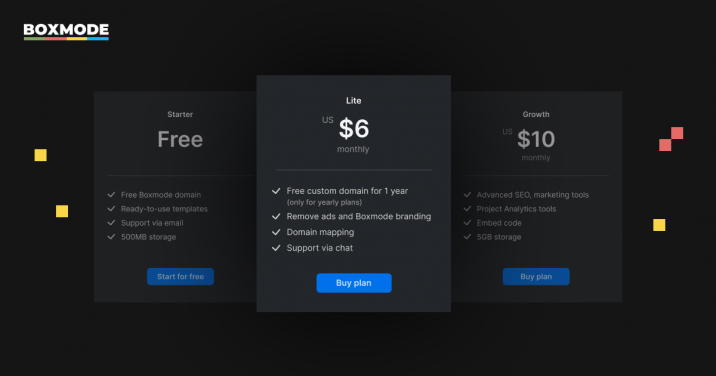 Find more information on our pricing page.
What else do you need to know about the Boxmode's Lite plan?
The Lite annual plan costs $4.50 per month ($54 a year), while the Lite monthly subscription is $6 per month ($72 a year).
One Lite subscription applies to a single project, not to the entire account.
Boxmode provides a voucher that grants paid customers one year of access for using a custom domain name.
Users can choose a free custom domain name with one of these extensions: .com, .cc, .xyz, .click, .company, .business, .name, .pictures, .top, and .work.
A free domain is available for annual plan users only, and they can claim it once. So, please ensure that your choice of the domain name is final. You can't change it later.
If you have any questions on how to use Boxmode Lite, please reach out to our customer support team. And check out the Growth plan if you want to use all of the platform's features.
Choose project to upgrade