The Starter pricing plan works well for those who want to try out the solution and understand whether it's a good fit for their needs. If you are one of those users, visit our article on getting started to learn how to work with Boxmode to build a free website. Users who need a full-fledged yet basic site for their projects also tend to choose this pricing plan.
What is Boxmode's Starter Plan?
The free Boxmode Starter plan provides access to the website builder's primary tools and features.
What is included in the Starter plan?
The Starter plan users get the following features:
500 MB of storage space on our on-premises servers;
A free *.boxmode.io domain;
More than 50 templates for various niches;
Secure and encrypted internet connection with an SSL certificate;
Basic SEO settings (meta titles and descriptions, canonical links, open graph tags, automated sitemap.xml, and robots.txt files);
24/7 customer support via email;
The unlimited number of projects to create.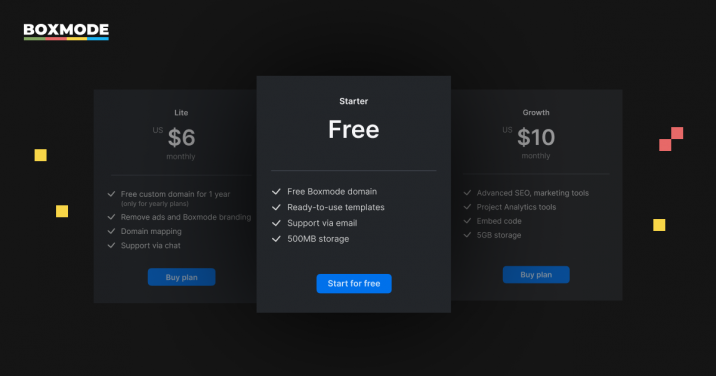 Compare Starter with other plans on our pricing page.
Essential information you should know about the Starter plan
Boxmode uses a freemium business model. That means you can use it under Starter as long as you want without providing payment information.
The Starter subscription applies to all your projects.
As we mentioned, Starter allows you to use standard tools to create and manage a free Boxmode-based website. But what if you need more features than it can offer?
You can consider Lite and Growth plans to avoid limitations in terms of functionality and use extra services. These pricing plans unlock more customization options, storage, advanced SEO tools, integrated analytics solutions, domain mapping, and other features. Please find out how to upgrade to Lite or Growth pricing plans in our guide.
We hope this article helped you understand the Starter pricing plan's features and terms. Please message our customer support team if you have any questions. If everything is clear, why not start building your site now?
Go to Editor