Template Editing
Customize Boxmode design themes using drag and drop
Boxmode offers a wide variety of templates, allowing you to create a website in a snap. Simply pick the theme you like (or the one that matches your business), insert your content – and you are ready to go!

But if you want your site to stand out and reflect the identity of your brand, you'll want to customize it to your individual preferences. That is why Boxmode made sure you have all the tools needed to modify templates and create a website with unique and recognizable design.
Highlighting widgets and their elements
Boxmode templates consist of widgets. These are basic functional units that make up your website pages, e.g., header, footer, navigation menu, gallery, contact form, etc. They are fully customizable so you can easily change their appearance and move them across the page. 

Once you have chosen a template, you can start editing it. When you hover your cursor over widgets, they become highlighted, and you can see their name.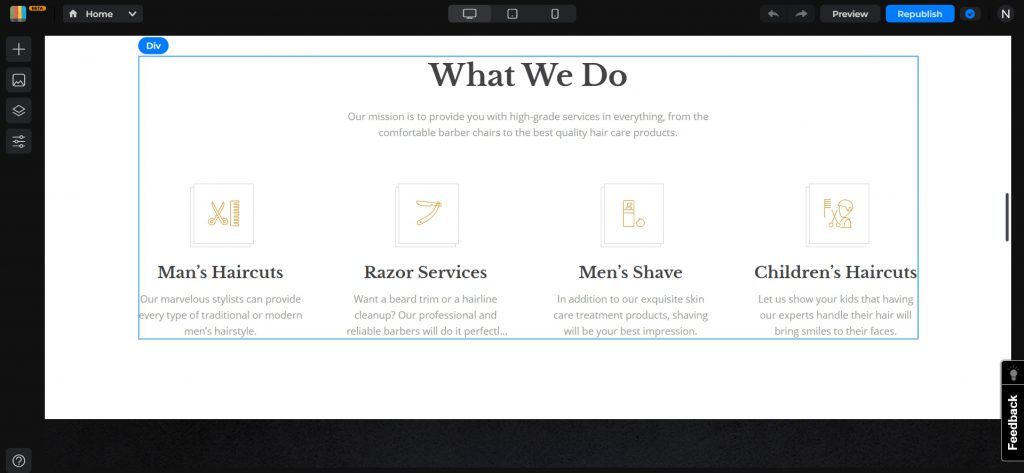 Hovering over individual elements inside the widget highlights these elements too.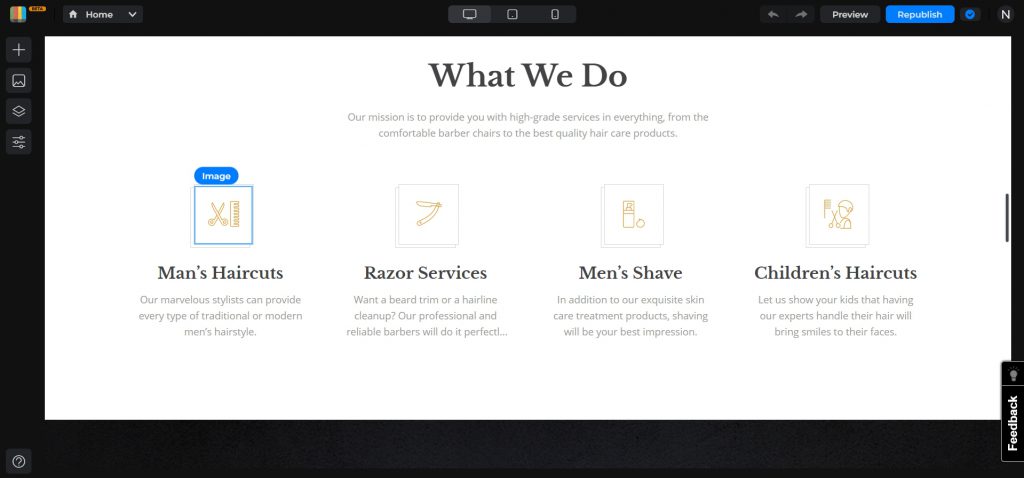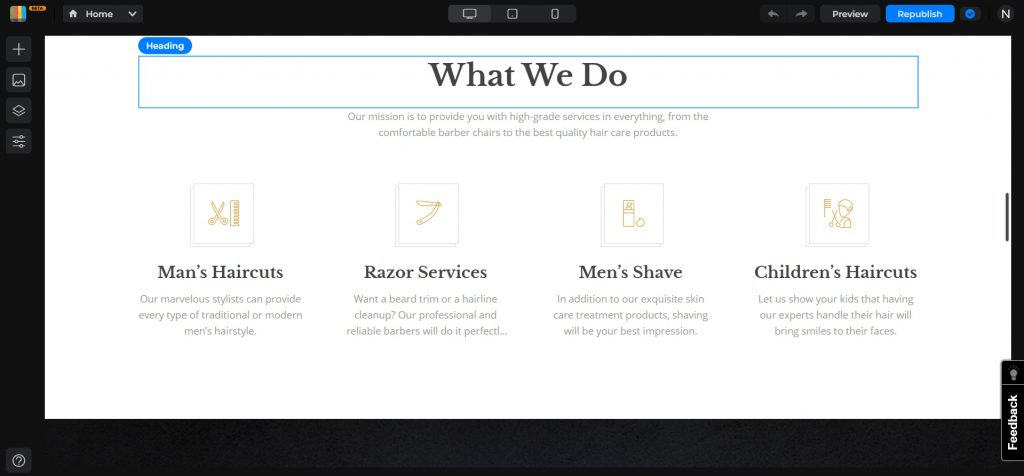 Widget and Element Controls
Clicking on a widget calls out widget controls. They show up above or below the selected widget, depending on its position on the screen.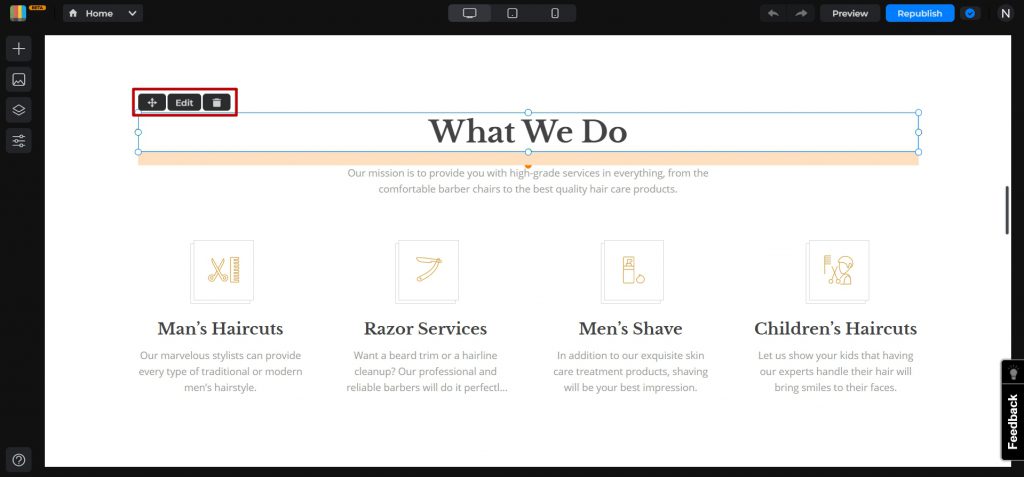 The controls include:

Drag (the "crossed arrows" icon): Allows you to change the location of the widget by dragging it across the page. The drop area is highlighted on the canvas.
Edit: Calls out an editing menu where you can customize the widget (different widgets have different editing options).
Delete (the "trash bin" icon): Removes the widget from the canvas.
Thus, you can easily interact with every element of the template. For example, if you need to change the text inside the widget, you can simply click on the required text block and hit "Edit".
Note: Alternatively, you can double-click on the text block.

You can then edit the content inside the block using the text editor.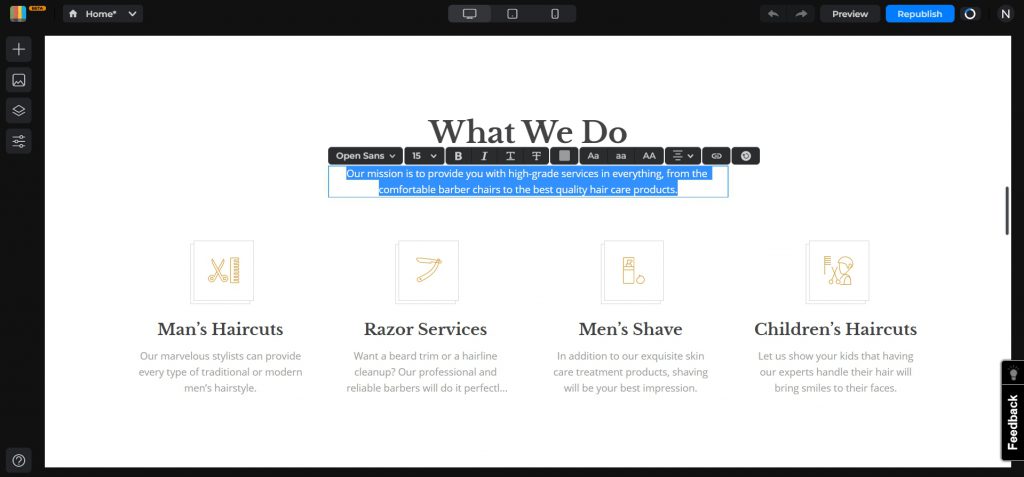 Resizing Widgets
To resize a widget, simply highlight it and drag one of its anchor points up/down or left/right until you get the desired result. You can also adjust the widget's padding in the similar way. Hover your cursor over the area around the anchor point (it will become highlighted as a half circle) and drag it up/down or left/right, accordingly.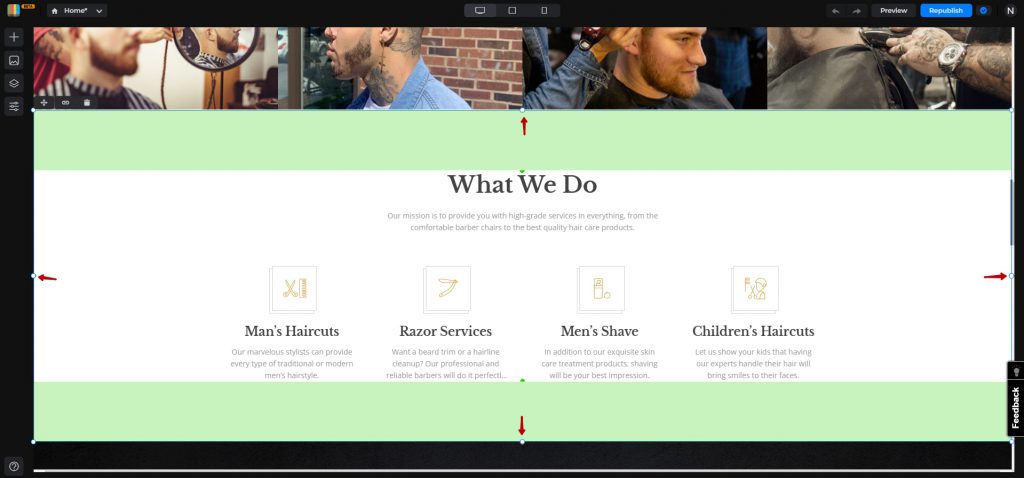 As you can see, the editing process is very straightforward, thanks to the Boxmode drag and drop interface and advanced widget controls. Just a little bit of practice using them, and you will be able to create a beautiful website in no time!

Ready to try it yourself?